INFORMATIONS
HOTELS
The X Docomomo organizing committee established a partnership with two hotels in Curitiba: Slavieiro Rockefeller, next to the Estação Mall and closest to the University PUC-PR, and Slavieiro Palace Hotel, in downtown and close to the promenade XV de Novembro.
When booking mention your participation in X Docomomo Brasil Seminar to get special rates.
Hotel Slavieiro Rockfeller:
Address: Rua Rockefeller, 11 - Rebouças - CEP: 80.230-000 - Phone: +55 (41) 3023-2330
Google Maps | Hotel Website
Slavieiro Palace Hotel:
Address: Senador Alencar Guimarães, 50 - Centro - CEP: 80.010-070 - Phone: +55 (41) 3017-1000
Google Maps | Hotel Website
---

PUCPR
The X Docomomo Brazil Seminar will take place at the Pontifical Catholic University of Paraná (PUC-PR) in the Auditorium of TUCA (Blue Building) and in the Maria Montessori, Thomas Morus and Sobral Pinto Auditoriums (Yellow Building).
Momotur (guided tour) is scheduled for October 19th (Saturday), in the morning, departuring from the main Gateway. The registration for the Momotur will be able on October 15th and 16th in the foyer of Maria Montessori Auditorium. The tour will begin at 9AM and will finish around 12:30PM. The price is R$ 50,00, which must be paid only by cash.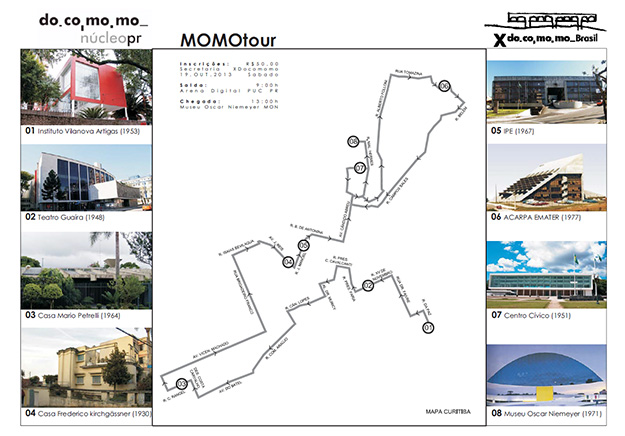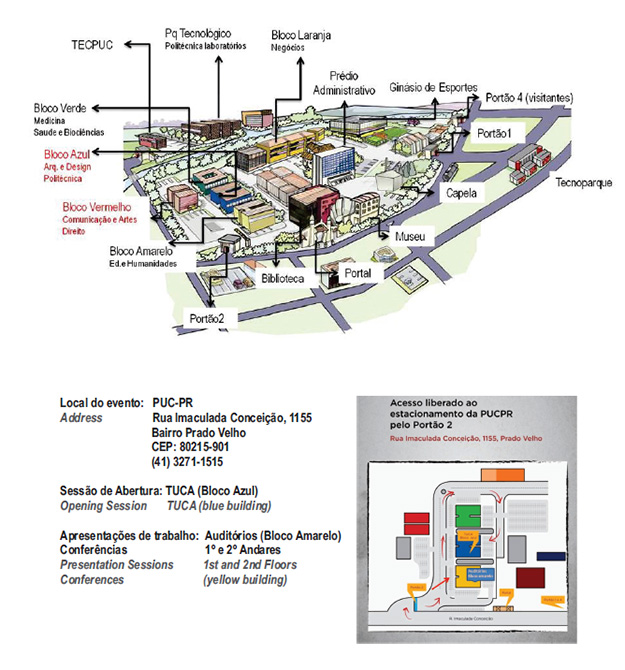 Catholic University of Paraná (PUC-PR)- Address: Rua Imaculada Conceição, 1155 - Prado Velho - Curitiba - Google Maps
---
More information about Curitiba:
Tourist Guide:
http://www.curitibacity.com/en.html